Japan 2016: Day 5 (Rest day)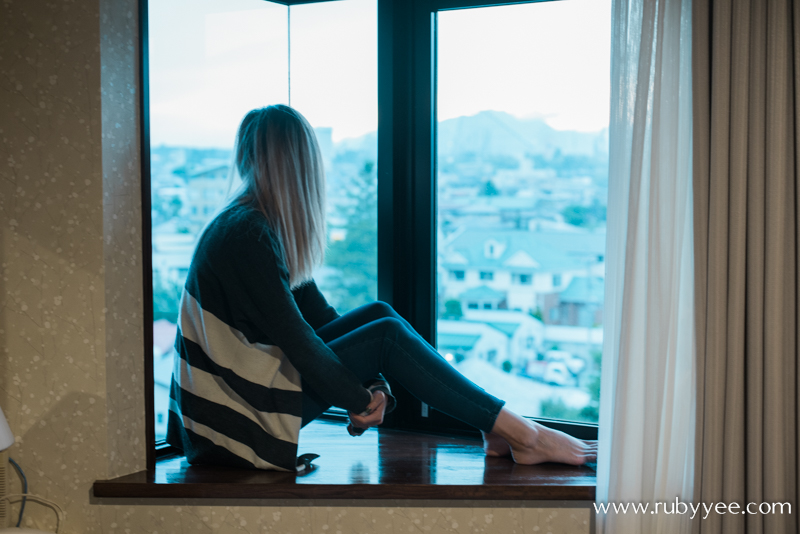 It was a good day for sitting on multiple trains instead of walking around. My feet needed the rest.
A quick breakfast at home, some last minute ramming junk into our backpacks and we were ready to hit the road.
Since we were off to Shinjuku for the trains we stopped by trusty Isetan for some food on our journey ahead.
First, a train from Shinjuku to Takao station because we missed the express. *sadface* It took us just over an hour. Next up, a forty minute train to Otsuki station, then another forty minutes to Fujisan station and we were an hour early for check-in.
Oh look, I spot a convenient store right outside the station gate with some soft serve. I know I usually go for the straight up milk flavour but we were at Fujisan so I couldn't pass up a gimmicky Fujiyama soft serve which had a taste of the milk flavour on top, so I was fine with that (HM#4 IC#11).
We made our way to the hotel (which is seriously close to the station) and found out check-in wasn't until 3pm and there was nothing to do around. We walked over back to the station and this department store next to it, bought some snacks from MUJI, and walked up to the Fujisan viewing point on the rooftop. Okay, it's pretty epic. I didn't think I would even care for it but I wowed.
Off to find some food after we checked-in, got ourselves settled, and had a huge nap – train travel is tiring. Oh look, a sushi train! Oh, look some more, there was a toro plate and it tasted gooooooooood. The same could not be said for the ikura, though – so much sadness happening. It wasn't fresh! We also saw some bear meat, but by the time Google translate worked, the train had sailed.
We finished dinner early to go in search for some dessert. Where the hell is there a Familymart around here? There wasn't. The map told us there was a Seven-Eleven nearby though and PINO ice ceram was involved (IC#12). The mouth feels. Oh, and what's that? Some novelty Doraemon related munchy? Bought.
Ummm….so, it was 8:30 and we were tired from our nap so we decided to sleep…………
Oh P.S. They didn't provide shower caps as an amenity…I fashioned one out of the Seven-Eleven shopping bag!