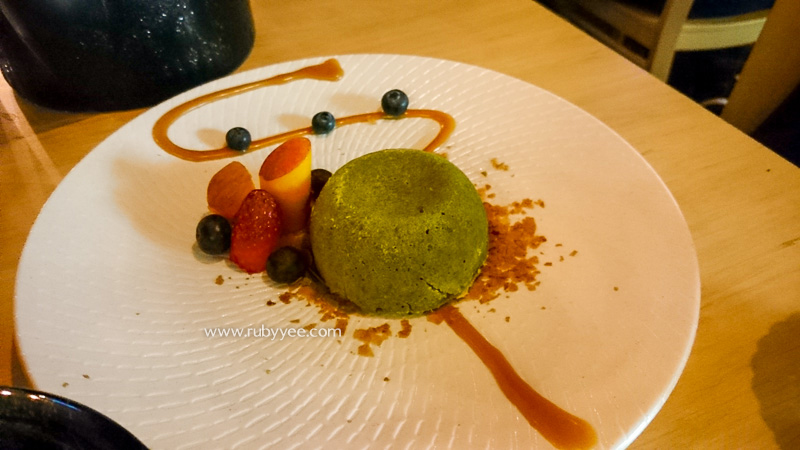 Let's just start by letting you know this is a lot of picspam because finally someone, AKA Samantha Lin (check out her write up here), was taking more photos than me and also didn't mind the food getting cold (or melting) before chowing down.
We were indecisive of arrival times so when I initially booked for 18:30 and needed to change the booking to 18:00 they were accommodating and creepy because they had caller ID and knew who I was straight away. Well, I ended up arriving about 15 minutes before the changed booking time and there was no issues with that. The staff were all lovely and this restaurant falls nicely under both the "try more Japanese food" and "burger quest" categories so yay!
Honestly, I was a little unsettled walking into this place; it was super modern, felt like a bar with loud music, and too dark for taking decent photos.
Luckily they seated us under some pretty lighting. After lots of chats and running around the place taking photos, we finally had a chance to look at the menu and whaw…they weren't kidding when they said green tea everything! Let the picspam begin!
We (not me, because I have aversions conversing with people) asked our server if we could nix the alcohol in the cocktail because autoimmune issues. So, the lovely bartender enlightened us, when he brought over the massive teapot, that he replace the Hendricks gin with orange juice and some crushed apples while keeping all the other lovelies: peach, lemon with chilled green tea and a hint of rose. Yummmmmmmmmm…..
See, I told you this fits with burger quest. These were a pain to slice in half! The ramen burger felt a little too greasy, the rice burger was nice, the favourite was definitely the matcha burger by a mile.
I forgot to mention we were given forks to eat our food with and it felt super awkward. I was surprised the takocini had rice in there and while it was nice, it felt a little weird. I liked the mayo and cabbage it sat on though?
Dessert dinners are the way to go, but we were feeling slightly guilty…that's why we ordered some savoury foods.
Don't you love/hate it when they surprise you with a slab of red bean? You do? I don't because I haaate red bean. When it hit the table, I had no idea what that slab was and ugghhh..I tried the green tea with it since more often than not green tea desserts come with red bean jammed right in the centre of it. Nope, gritty, sandy, grainy, drying red bean is not my cup of tea. It tasted lovely without it, though! That goes double for the lychee baoger because lychees are possibly my favourite fruit ever.
And that lava bomb…it'd be lovely for someone who loved matcha. I'm less a fan of matcha and more one of sencha. In any case, I liked what I ate of it – three-quarters of my one-half, then it got a little too much for me.
Overall, a nice experience. Great staff, great company, beautiful mocktail, a few surprises.










7.5 out of 10
One Tea Lounge & Grill
Upper Ground Floor, 73 York Street
Sydney, NSW 2000
Website | Facebook
Opening Hours:
Sunday:
Closed
Monday – Wednesday:
11:00 – 15:00 | 17:30 – 20:00
Thursday – Friday:
11:00 – 15:00 | 17:30 – 00:00
Saturday:
17:30 – 00:00