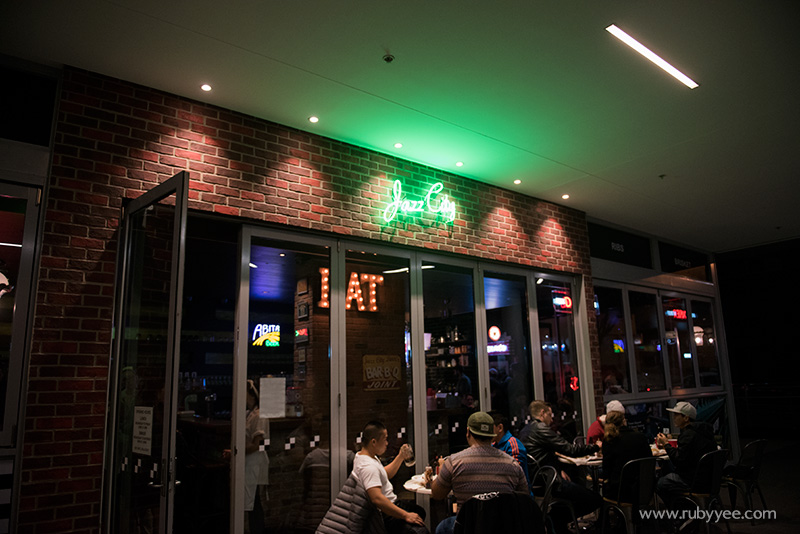 I've always wondered whether these American burger served in Australia are anything like the real thing. It doesn't matter any more after tasting all the artery-clogging goodness from Jazz City BBQ. The only question I have now is why hadn't I heard of this place before this month? In any case, I am glad Jazz City BBQ was added to Burger Quest 2015.
Four skinny Asians walk into a BBQ joint and order more than they should sanely consume. What of it? We finished it all; for once we didn't bite off more than we could chew. What's that other saying? The one about our eyes being hungrier than our stomachs/mouths? Not a saying but it should be.
Let's get straight to the goodies.
First up, some lovely milkshakes. I die a little every time I read peanut butter milkshake or peanut butter ice cream because I know there's no way I can resist the temptation. Oh boy, was this milkshake creamy, tasty, and *dies*. The Mister loves his weird flavours so naturally he ordered the apple milkshake. No thanks, it tastes as weird as it sounds; that's not to say it tasted awful, just…different.
If those aren't enough calories for you, just wait for the burgers…
Cut burgers into quarters to ensure we tried it all. Have to say, the Fatboy Burger was the best of the four; followed closely by the Chili Burger.
Can't wait to get back there for the BBQ. Also Chicken & Waffles!!!!!!!!!!










8.5 out of 10
Jazz City BBQ
200 Goulburn Street
Surry Hills, NSW 2010
Website | Facebook
Opening Hours:
| | |
| --- | --- |
| Sunday – Wednesday: | Closed |
| Wednesday – Friday: | 12:00 – 14:00 | 18:00 – 22:00 |
| Saturday: | 18:00 – 22:00 |