Daisy's Milkbar is adorable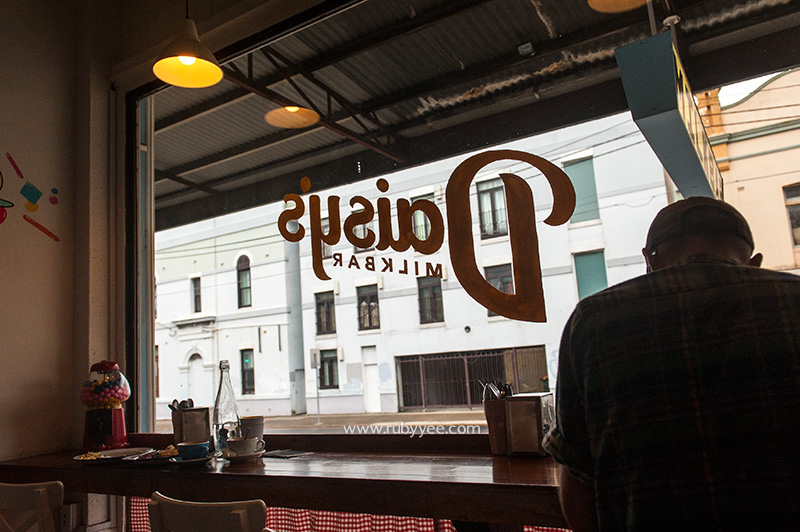 It was Good Friday, and we'd wasted the morning checking out quite possibly the worst sunrise possible. It was 99.9% cloudy. First light was just one giant light box and at sunrise, that's just terrible. There was no break in the clouds to capture anything exciting. It was windy, but not enough for any dramatic waves. Well, after a short nap in the car we headed off to Daisy's – so glad it was open because I'd been wanted to visit Daisy for a long time. All their food looks so amazing. Honestly, I never head out this way, but one night we wanted to hit up The Oxford Tavern because, apparently it's not a skeevy dive anymore, but we walked past and it still looked pretty ehhhhhh…so we ran away because we are scared little Asians. Anyway, I saw the milk bar sign and got super excited that it was so easy to find. I hate driving around looking for places!
You walk inside and it looks like there only a few seating options, but when you walk passed the cute little free cordial station, you'll find more tables; not that they'll be empty!
The baby pink door matches everything perfectly, from the atmosphere to the little tidbits for sale next to it and even the amazing staff there.
Coffee grounds are great! They can be used for a million things! Free is even…greater!
I had every intention of ordering a whole bunch of food, but having to wake up before dawn brews a day of bad food decisions and as such, I filled up on chocolate hot cross buns on the drive over. Terrible, but it was Good Friday, and I love chocolate! We ordered:
Breakfast Burrito – tortilla packed with scrambled eggs, bacon, chorizo, potato, chilli, coriander, jalapeno, chipotle sauce, and cheese. I don't normally eat bacon, so I asked for it to be removed with the chilli, but they actually have it as a mix/batch, so I couldn't take anything out. There was a veggie option to swap out the bacon and chorizo for beans, but I wanted the burrito for the chorizo, because who doesn't love a good chorizo?!
Eggs Benny Roll – poached egg, ham, spinach, and hollandaise on brioche.
How did I know The Mister would order the Eggs Benny Roll? As soon as he sees something with hollandaise sauce on the menu he's all over it like a fly on shit. The food was amazing, like everything else there. I'm super sad I was too full to try some dessert because those sound super decadent — I mean, the Choc Fudge Sundae and the Knickerbocker Glory were, and still are, on my to-eat list! I will certainly be going back for them!










7 out of 10
Daisy's Milkbar
340 Stanmore Road
Petersham, NSW 2049
Website | Facebook
Opening Hours:
| | |
| --- | --- |
| Monday – Friday: | 07:30 – 16:00 |
| Saturday – Sunday: | 08:00 – 16:00 |