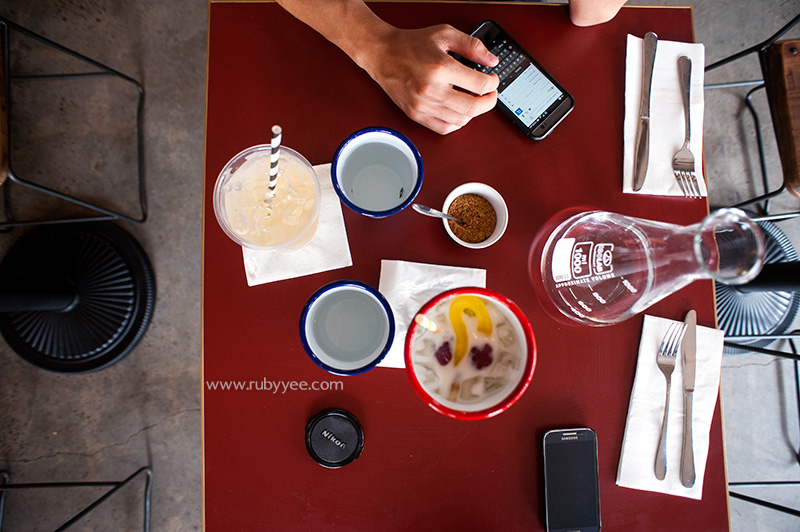 I'll admit I was suckered in by the cereal milk! They were all talking about it and yes, it was every bit as enjoyable as they said.
We were actually headed to One Five Two, but their Facebook page lied and I was utterly disappointed they were closed on the Saturday! Just as well, because The Doctor did not disappoint.
We walked from Liverpool Street all the way down to this joint because I obviously have no sense of distance. My legs were dying when we arrived. We stared at the menu outside for a while and the whole time I was thinking of ordering the "Taco Salad" – ground chicken, romaine, olives, corn, tomatoes, avocado, chipotle dressing ($15) because the photos over on Yelp looked so awesome, but the second I walked in I was swept away by the daily special mirror.
Back to the walking in part — the decor is reminiscent of a science lab with all the flasks, beakers, and shelving. It looked awesome and I wanted to steal some of the conical flasks.
They put lollies in there too!! Oh, but they were rock hard because the milk was so cold and brain freeze, but luckily it was such a hot day that brain freeze was welcome.
They didn't have any lemonade prepared today and asked us if ginger beer was okay. The Mister is a huge fan of ginger beer, so I think he was glad there was no lemonade.
I think they forgot my radish because there was no trace of it unless I'm blind or uncouth and missed it. Still delicious though! They actually put the plate down and I was thinking, "boo, there's no way those few pieces of watermelon are going to be enough." How wrong I was – so bloated and full by the end of it. Watermelon – so much water.
Little regret on not ordering the "chow down" (a double patty) with the burger, but it was generally a pretty tasty burger! A little similar to a Mary's burger, but better in our opinion.
I actually stole this picture from our neighbouring table. I got so disappointed when I saw the plate arrive and that I hadn't ordered it. *sad face* Well, next time I got back, I'm definitely ordering the Taco Salad and the Eggs 5 Ways.










8 out of 10
Dr. Faustus
380 Cleveland St
Surry Hills, NSW 2010
Website
Opening Hours:
| | |
| --- | --- |
| Monday- Sunday: | 09:00 – 15:00 |