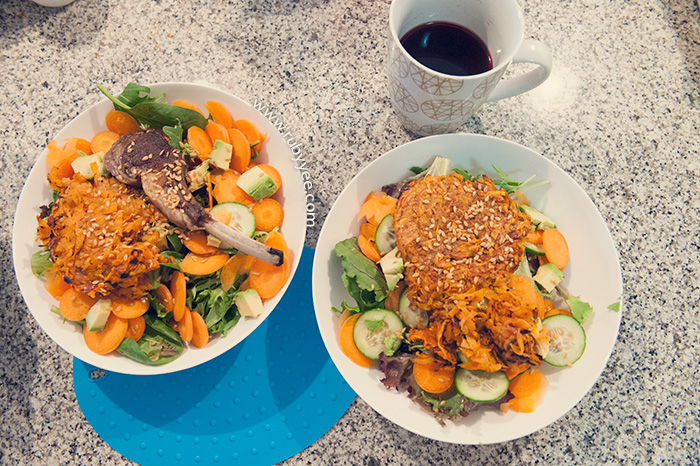 Yep, still on my health bender. I was really in the mood for pancakes recently, but had no idea what I could make that was gluten-, dairy-, soy-, and nut-free. It was lunch time anyway and nobody has pancakes at lunch. Dinner maybe, but definitely not lunch time. We had a sweet potatoes lying around from having made sweet potato chips a couple of days ago, so I thought I'd use that up and make me some hash browns for lunch! As with all my recipes – this one is surprisingly easy! You really learn to love the natural taste of…nature if you're not loading your food with sugars, salts and oils!

Start off washing the sweet potato – you want to keep the skin on because extra nutrients!
Whip out your grater and start having at it. I'm always scared I'll get my fingers as I'm quite possibly the clumsiest person in the world. If you're also scared, grab a fork!
Yeah, grating took a while because there was so much it filled up the inside of the grater a few times!
You need to squeeze out the water in a paper towel before cooking them!
Pop them in a pan on a low heat. You have the option of adding a dash of oil to the pan first. Literally a tiny dot of oil. Add salt and pepper. Flip.
Plate up!!!

Sweet Potato Hash Browns
Ingredients
1 sweet potato
dash of olive oil (optional)
salt
pepper
Instructions
Rinse sweet potato, then pat dry
Grate up the sweet potato - careful of fingers - use a fork!
Place grated pieces onto paper towel and press dry. Don't need to be too vigorous - taking most of the moisture out is enough.
Heat up a pan and add a(n optional) dash of oil.
Place pieces in the pan on a low heat setting.
Add salt and pepper to taste.
Cook until browned, pressing down occasionally.
Flip and cook until other side is brown.
Add more salt and pepper if you want.
DONE!
Add to salad, burger, meat or enjoy on its own.