Food: Sweet Potato Crisps Recipe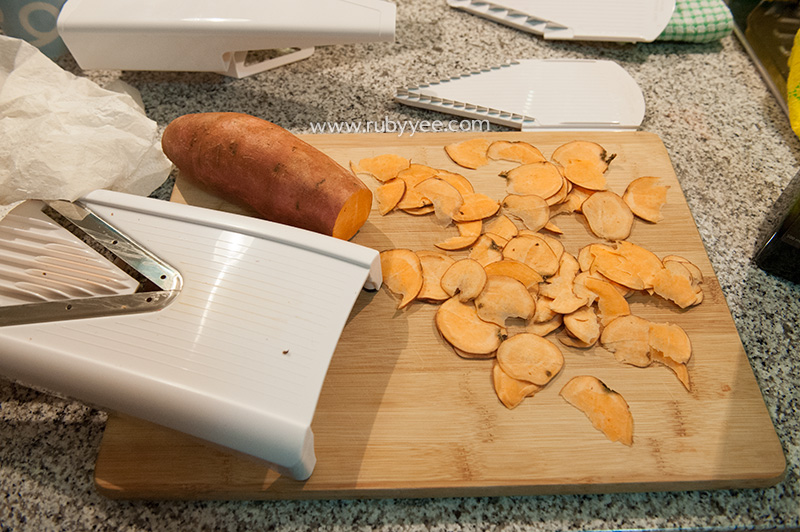 So, since I'm on this health kick for my skin I thought I needed to experiment with some foods! Now, let me just say I've always hated foods that are good for me for some strange reason. A small list of foods I dislike that are good for me: pumpkins, sweet potatoes, carrots, nuts, dark chocolate, wheatgrass, brussels sprouts, cauliflower, you get the point. Obviously in my bid for healthy skin I've had to try all these foods, and well like they say in "taste psychology", you can teach yourself to love foods you've never liked before. I'm starting with pumpkins and sweet potatoes. The first time I tasted pumpkin on this diet I was shocked! It seemed so awkward to have something so sweet with my dinners – it actually reminded me of an Easyway Pearl Milk Tea. Odd, I know. I love pearl milk teas, but the flavour with that texture and with dinner just didn't go well! I've still been eating pumpkin, and I don't hate it as much now, but I still don't like it…yet! Hopefully soon. Now that I've given pumpkin a chance, it was time for the sweet potatoes! I've tried kumara fries before at burger joints and did NOT fancy those things! I've always been a potato chip fanatic so I naturally thought I'd try my hand at sweet potato chips. Imagine my surprise when they turned out delicious!
They didn't really turn out well the first time because I had a habit of pushing too hard on the mandolin slicer, so the slices were a little too thick to crisp up, but that's not to say they didn't taste yummy!
It is SO super simple to make even though I burnt batch 1.5 because I forgot about them -_-

Sweet Potato Crisps
Ingredients
Sweet potato
Olive oil (or any oil of choice)
Himalayan pink salt (or other salt of choice)
Instructions
Wash your sweet potato. We want to keep the skin on. Get all those nutrients in!
If you have a mandolin slicer use it. Otherwise, slice very thinly or try a peeler. Don't push too hard on the slicer, or you will end up with thick chunky ones that don't crisp up.
I used a toaster oven because I hate preheating, but if you need to use your oven preheat to about 110°C
Line your tray with baking paper
Next you can either brush the slices with oil or just arrange slices on tray and drizzle lightly or even straight up skip the oil step.
Sprinkle with salt
Place in oven for 1 hour.
When the edges start to curl and colour you can take them out of the oven. Keep an eye on them after about 40 minutes as some of the smaller pieces curl up sooner.
They will be soft when they first come out of the oven and crisp up as they cool.
Enjoy!