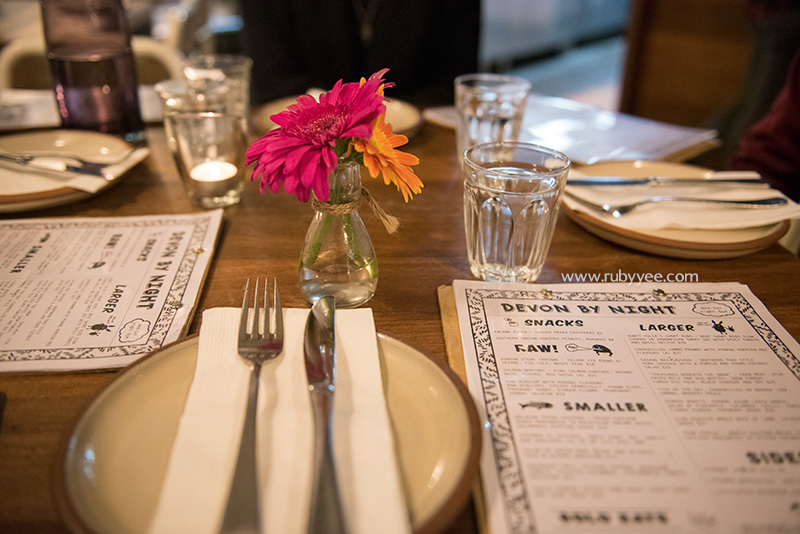 It's nice to head out for dinner with more than just The Mister sometimes, and Devon by Night is the perfect location to have a few friends with you.

The banquet option ($50pp) is a great sampling of their delicious foods and with seven courses it took us no less than 2 hours to finish the meal so ample conversation is vital. Enough jibber jabber – to the food!
These first two dishes made for a lovely, refreshing start to the night. Could not wait to get to the next dishes to arrive so we could gorge, but first, one more image of the steak tartare:
I have to say, I'm very picky with how I eat my oysters – raw with mum's sauce made with ginger, soy, vinegar, sugar; and cooked with seafood soy, shallots, ginger. I know The Mister isn't a huge fan of seafood, but we both thoroughly enjoyed these babies; we only wish there was more than one for each person.
When these hit the table they staaaaaannkkk like stinky tofu. I'm definitely neither a fan of the smell nor the taste of stinky tofu but ventured to try these wings anyway. Just as well, like the stinky tofu, these taste a lot better than they smell and lucky there was two for everyone.
The pork belly was soft and fell apart the moment it hit my tongue. I have to say, I didn't like the gritty texture from the taro though. Mains up next:
There was also some Steamed broccolini, garlic & oyster sauce ($9) that I neglected to photograph. The mains and sides were subpar compared to everything else that landed on the table. The lamb had too much sauce for our likings, the mushrooms were too salty and too oily from having been sitting in their foiled juices. The fish and broccolini were average. It's okay, we still love Devon, especially since their desserts are the epitome of amazing. Check them out.
Very enjoyable night. Order every single dessert if you can.










7.5 out of 10
Devon on Danks
2 Danks Street
Waterloo, NSW 2017
Website | Facebook
Opening Hours:
Sunday:
08:00 – 15:30
Monday – Tuesday:
08:00 – 16:00
Wednesday – Friday:
08:00 – 16:00 | 18:00 – 22:00
Saturday:
08:00 – 15:30 | 18:00 – 22:00