Vitamin E Collection from The Body Shop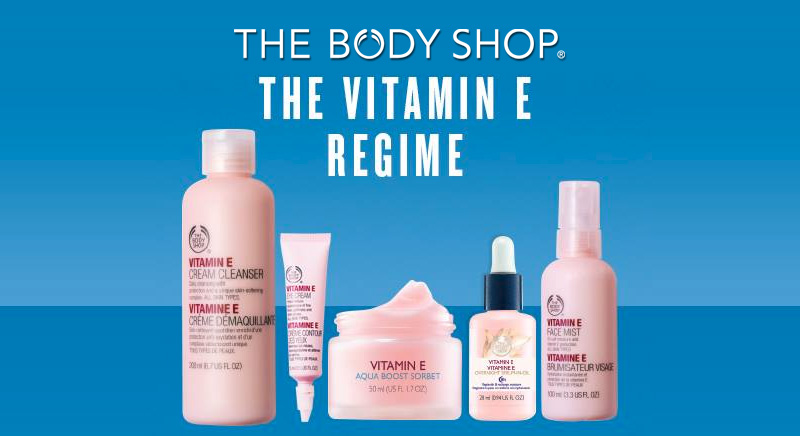 I can't be the only one who has dry and oily skin at the same time while suffering from facial psoriasis, or some other illness that manifests on the surface. It's been difficult finding skincare that works! I've had to try a whole lot of different products. In fact, I have so many products on the shelf that have been used no more than a handful of times. The Mister enjoys a beauty treatment session once in a while with my discarded beauty products.
When I found out The Body Shop had a vitamin e range of skincare, I was all over it like cheese on a cracker. Everyone knows the benefits of vitamin e for skin in aiding dry skin and I'd been reading about the potential benefits for psoriasis because of all the antioxidants it contains to relieve itching and reduce inflammation.

I went out and bought myself a couple of goodies.
I especially needed the eye cream, so it was the first thing I bought. Now, I know the "rule" about not using cream too close to the eyes, but I was suffering from annoying little spots right by my eyes and on my eyelid; when I say "right by my eyes", I mean right next to my waterline, so I ignored the naysayers and used sparingly as close to my eyes as I could get. Can I just say
amazing
! With the exception of a slight burning from having touched open skin after I rubbed my spots raw, it was absolutely a saviour. My spots were gone in a couple of weeks. Who cares about reducing wrinkles when it's clearing psoriasis right up! I have been using this morning and night, but since it isn't as concentrated as the eye cream, the results haven't been as good. I do still continue to use it as it doesn't break out my skin or dry it out. It also doesn't irritate my spots which is the most important thing. Sometimes when I'm having difficulties with a particularly stubborn spot on my face, I will put some of the eye cream on it — sparingly because that tiny tube ain't cheap and I ain't made outta monies.
Of course, after having tried these two products and being in love &hearts with them, I decided to try a couple of others.
There was something in the body butter that caused my skin to become incredibly irritated and inflamed! I couldn't place what was causing a reaction at first because it just didn't register, as all the other products were performing so well. I ended up just lathering and rubbing more of the butter on whenever I was feeling irritated (which was often). Finally, after the week was out, it clicked; it could potentially be the butter! No way! I stopped using and within three days my plaques were less red, less raised, less itchy. This was another product in the growing pile for The Mister.
I checked out the ingredients list to see what may have caused such a bad reaction but wasn't really sure. The best I've been able to come up with is cetyl alcohol, which is derived from coconuts, as that seemed the most obvious difference between the face cream and body butter. That might also explain why I've always had issues with Cetaphil cream, Sorbelene, and coconut oils as the all caused irritations.
At present, I don't use any creams or products that contain cetyl alcohol, cetostearyl alcohol, Cetearyl alcohol, cetylstearyl alcohol, stearyl alcohol or any variation of that and I hope it's not a placebo effect, but my skin has been feeling better in general. Though, that could also be put down to an overall improvement in diet. The mask keeps my skin amazingly hydrated; so much so that it gives me pimples around my spots when I'm lathering other ointments on. I just limit myself to using this before bedtime during the middle of my cycle when my skin is a little drier. I haven't decided whether I'll try the other products in the series or not, but I know I'll definitely be staying away from the body butter in the future.
Have you used this range?
What do you recommend and what reactions have you had to it?
Featured image from The Body Shop