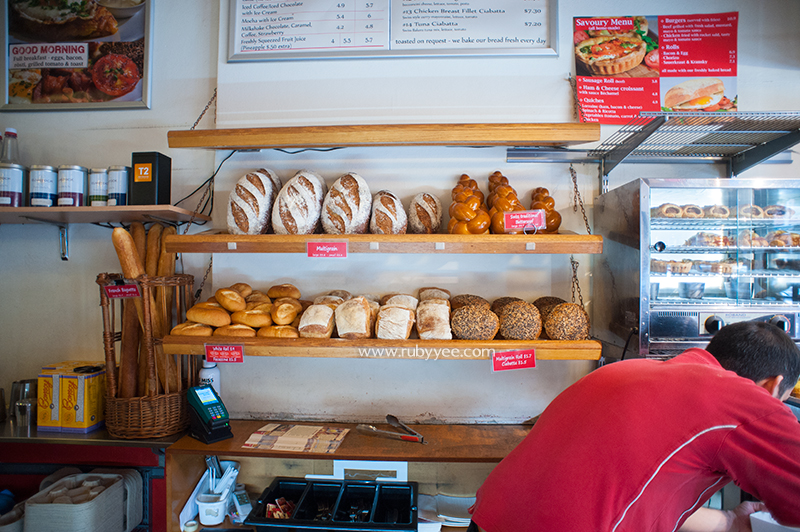 It's hard to wake up early enough to try new breakfast places sometimes, but this year The Mister and I are making an effort. It took a while to finally decide on a cafe, especially since many of the ones in town are closed on Saturday and Sunday!! Some aren't open early enough; we wanted something open from seven or eight in the morning. Finally, after flipping through the Entertainment Voucher Book and checking websites we flipped to Swiss Bakerz. Thank yooouuu Entertainment Voucher Book for helping us make up our minds! It's practically paid for itself already—just like timeshare!
We were actually reluctant to pick this place because we thought it'd be quite far down Oxford Street (somewhere near COFA) and I was not prepared to walk that far even if we had planned an "exercise/walking/fitness day" out! In fact, it's just before Crown Street, so super convenient.

Once you get in there are plenty of people ordering coffees for take out—even at 8am on a Sunday! Just behind, there are a few tables where you are able to have a sit-down meal. There was only one other group there.
They have a strange cow cut in half and stuck on the walls! The other half is on another wall.
Going to admit that I did not try the Eggs Hemingway as I'm not a fan of hollandaise sauce; it's like eggs drowning in butter. Why do I need more eggs on top of my eggs? The mayonnaise in the ciabatta was surprisingly flavoursome. Thoroughly enjoyed. It looked like a lot of food (and honestly it was) but I ended up eating all of it, after all, you know what they say about breakfast and it being the most important meal of the day! The hot chocolate was smooth. I loved the coffee as it was, but The Mister needed some extra sugar (amateur).
I know we just had breakfast, but I really couldn't walk past the window again without buying something "to go". And by to go, obviously I meant buy it, then eat is as soon as I stepped outside. I mean, did you see that picture with all the goodies lined up in the window?? Well, they ended up filling it more by the time we were finished eating.
I had a really hard time figuring out what I wanted. I knew I barely had room for extra food, but by gosh, I needed to taste a pastry!
The swiss rolls are different to what I'm used to—the Asian ones. There's no sponge cake? Just lots of chocolate? Not complaining! *gobbles* The bee sting is great and I think that's their signature…with good reason. If you try one thing from this place, let it be the bee sting!










8 out of 10
Swiss Bakerz
101 Oxford Street
Darlinghurst NSW 2010
Website | Facebook
Opening Hours:
| | |
| --- | --- |
| Monday – Friday: | 06:00 – 21:00 |
| Saturday: | 06:00 – 20:00 |
| Sunday: | 07:00 – 20:00 |