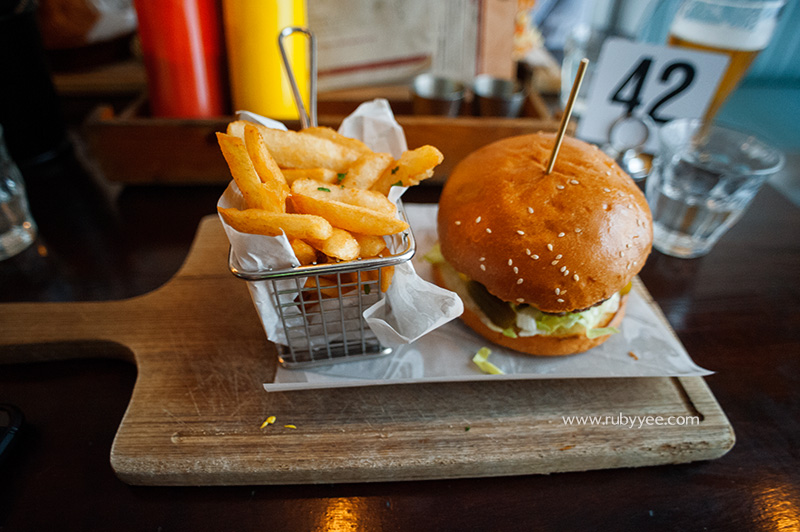 Working near the restaurant, I'd often walk past during lunch times to see the place full of customers and so I read the menu for this place wanting to try everything. It all sounded amazing. Obviously, I had to go with some friends to try a bunch of different things and because this actually popped up in my burger quest I decided the sooner I dragged some friends along, the sooner they'd praise me on an awesome find. Unfortunately, there was no praising to be had.
We arrived just before six and looked over the menu for a while. The servers were a little disorganised at this time and looked confused even though it was bare but for a couple of tables. We wanted to order, but because it was five minutes out from six, they weren't sure if the kitchen was open or not so needed to double check. They let us know that the grills were on and just needed wait until they heated up so we ordered.
Not too long of a wait before we got our food!
The first bite was tasty and crispy! A few more bites later and the grease gets a little overwhelming. The coleslaw was enjoyable, but I thought a "cleaner" salad may have been more suitable— the milky sauce in the 'slaw ended up being too much on top of the already greasy chicken. The "Garage Sauce" was definitely the highlight. We couldn't get enough of it!
The chips and burgers were ok. Not good, not great. Dry meat patties are never a good thing. ever. no. At the end of the meal we were all full; stuffed, in fact, and, even though, the burgers in these photos look picture-perfect the taste of the burgers left a lot to be desired.
Overall, there are better, cheaper burger joints in the area. If you're after a burger in the city, I suggest you go elsewhere.










4 out of 10
Bridge St Garage
17-19 Bridge St
Sydney NSW 2000
Website | Facebook
Opening Hours:
| | |
| --- | --- |
| Monday: | 12:00 – 17:00 |
| Tuesday – Friday: | 12:00 – 00:00 |
| Saturday: | 17:00 – 00:00 |
| Sunday: | Closed |