Psoriasis: Lifestyle Changes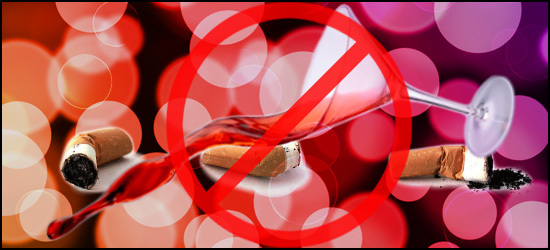 It usually takes a lot to change my ways. I'm one of those stubborn, unchanging folk and heck; I've never even stuck to a diet for more than 24 hours. However, I know I've had to make some changes in my life for the better of my psoriasis, and health (both mentally and physically). I hate having to rely on topical steroids, hydrocortisones, medications and all those. Just thinking about the possibility of having to use them for the rest of my life is a little more than mildly depressing. I've used them for over ten years already and another 40, 50, 60 years is something I don't want to even have to consider.
Obviously, changes needed to be made to keep my life with psoriasis running as smoothly as possible. The first step was to "grow up" and grow out of some bad habits. Growing up with parents who smoked constantly in the house and being the rebellious child that I was, it was only a matter of time before I too picked up the smoking habit as a teenager. I smoked only a few years, started at 15 years old until I quit entirely at 21, social smoking included! There were times when I would smoke "arguile"/hookah/whatever for three hours a night, months at a time with friends. It didn't feel like I was doing any harm because it didn't feel the same as smoking a cigarette. Knowing that smoking caused increased risk of cancers and all those other diseases you'd hear about on the television or billboard posters didn't really do much to deter me from smoking completely. Although, I was never a heavy smoker to begin with, I'd cut down to only arguile and having cigarettes in social situations. I began wondering if smoking might cause flare ups and additional problems for my skin, so I did what every good netizen would do and roamed the internet for answers. More often than not, others have said it does indeed have negative effects on psoriasis sufferers. I needed to stop smoking – and fast. I tossed out my arguile pipes and threw out the rest of my cigarettes. Cold turkey was the way to go – I knew if I tried to wean myself off smoking it'd never work.
One night, I was flipping through channels and stopped on a British show called Embarrassing Bodies, there was a woman on the show whose body was riddled with plagues and it turns out she was a pack a day smoker and the show doctor advised her that smoking worsened psoriasis outbreaks. Luckily I was already smoke free, well, with the exception of chain-smoking parents!
Alcohol is another pass time I have cut out completely from my life – one or two sips each year not withholding. Hey, I'm no saint! Eighteenths and twenty-firsts are always big on alcohol, but luckily it is passed that time now. As much as I'd like to down glasses of wine and shots of vodka, I now know better. Flare up hang overs aren't nearly as fun as regular hang overs! While the latter last hours, maybe a day, psoriasis flare ups from a night of binge drinking usually leaves me "feeling it" for up to weeks at a time. Even as much as one standard drink wreaks havoc on my system the next morning. My skin would become dry, silvery and flaky. ITCHY! As much as every young adult adores alcohol, I knew my binge drinking and partying days were behind me. No big loss there – hello designated driver.
Not only has giving up drinking and smoking improved my psoriasis, my wallet also thanks me for it…although, not for long as the extra money usually goes towards clothes. OH WELL! At least that's not detrimental to my health!
Being your typical Chinese girl, I have an aversion to the sun and tanning. As far as the majority are concerned, the paler the skin the better. I have come to accept that it's not worth remaining pale at the cost of exacerbating my condition. The past two summers I've blessed myself with a tan and improved my psoriasis. Although, when tanned the healing plagues become pigmented and more noticeable, that's all by a minor setback to an itch-less, flake-less summer. Winter still poses a problem with all the cover up, lack of sun and dry winds, but I'm looking at other methods to keep the vitamin D and UV levels up during those months and hopefully they will be successful so I can let you know about it!